From 'hammajang' to 'munted', lexicographers have issued a worldwide call for regionally distinctive words to define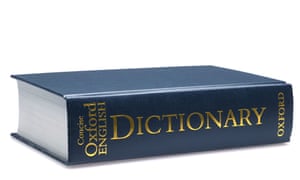 The Oxford English Dictionary is asking the public to help it mine the regional differences of English around the world to expand its record of the language, with early submissions ranging from New Zealand's "munted" to Hawaii's "hammajang".
Last year, a collaboration between the OED, the BBC and the Forward Arts Foundation to find and define local English words resulted in more than 100 new regional words and phrases being added to the dictionary, from Yorkshire's "ee bah gum" to the north east's "cuddy wifter", a left-handed person. Now, the OED is widening its search to English speakers around the world, with associate editor Eleanor Maier calling the early response "phenomenal", as editors begin to draft a range of suggestions for inclusion in the dictionary.
These range from Hawaii's "hammajang", meaning "in a disorderly or shambolic state", to the Scottish word for a swimming costume, "dookers" or "duckers", and New Zealand's "munted", meaning "broken or wrecked". The OED is also looking to include the word "chopsy", a Welsh term for an overly talkative person; "frog-drowner", which Americans might use to describe a torrential downpour of rain; "brick", which means "very cold" to residents of New Jersey and New York City; and "round the Wrekin", meaning "in a lengthy or roundabout manner" in the Midlands.
The dictionary has already found that, depending on location, a picture hanging askew might be described as "agley", "catawampous", "antigodlin" or "ahoo" by an English speaker, while a loved one could be called a "doy", "pet", "dou-dou", "bubele", "alanna" or"babber".
The Words Where You Are appeal is looking for more suggestions. These words will go alongside the regional words suggested by members of the UK public last year, when BBC Radio listeners were asked to send in their local turns of phrase, which were later included in poems by authors including Liz Berry and Hollie McNish for a National Poetry Day project.
"We were surprised and pleased by the number of regional words we were able to include as a result," said Maier. "With the public's suggestions as a starting point we were able to unearth a rich seam of regional vocabulary."
Some of the words suggested in the UK date back centuries, such as "zamzawed" – Devon's term for food or a meal that has been spoiled by overcooking – to more recent coinages such as "jarg", used in Liverpool to refer to something false or misleading. Other additions now in the OED include "antwacky", meaning old-fashioned, and "barry", meaning great, with more to come.
Maier said that it can be difficult for the OED's lexicographers to identify regional words, as they are more often spoken than written down, and the editors require citable evidence to include a new definition.
"In recent years, resources such as Twitter have been a great way for us to monitor the words that people are using informally in particular parts of the world and this, combined with targeted appeals, allows a lot more of these words to be identified and researched," she said.
"Tarzy", for example, is a Middlesbrough word meaning a makeshift rope swing used to swing over a river or stream. Lexicographers have so far dated it back to 2003, but Maier said that it is likely to have been used before that, with a colleague's mother remembering using it as a child in the 1970s. The word can only have arisen in the 20th century, however, as it derives from the Edgar Rice Burroughs' character Tarzan.
"Regional words indicate that their users come from a particular place and often contribute to one's sense of identity," said Maier. "You know you are home when words such as tarzy … can be used in the knowledge that they will be understood."
Regional vocabulary has been included in the OED since its first edition, with many of the public's suggestions, such as "ginnel" (an alleyway), "grockle" (a tourist), "far-welted" (describing a sheep on its back), "nesh" (cold, susceptible to cold), "clarty" (very muddy), "sneck" (a latch), "kaylied" (drunk), and "throng" (busy), already listed.
This post was originally published on TheGuardian.com